Good News from Haiti
MotoMeds, a nighttime pediatric telemedicine and medication delivery service managed by the University of Florida, and in partnership with Trek Medics, has launched a branch in Les Cayes, Haiti, the site of significant damage and destruction from the 7.2 earthquake that hit southwestern Haiti in August 2021.
MotoMeds is an innovative pediatric care service that's been active in nearby Gressier for more than two years, providing nighttime telemedicine consultation, medication delivery, and in-home nurse visits for children (10 years and under) after local clinics are closed, and when most children are getting sick.
Rapid Deployment
soon after the earthquake hit in late August, MotoMeds and Trek Medics met to discuss if a MotoMeds branch could be useful: Initial reports indicated that up to 70% of healthcare facilities in the affected area had been damaged or destroyed and that sizeable camps of internally-displaced persons (IDPs) were popping up around southwest Haiti and particularly in the populous coastal city of Les Cayes. Recognizing the lack of available healthcare and the heightened risks to children who are consistently exposed to the elements, the decision to send an assessment team was made. A couple days and several meetings later, the go-ahead was given: There were, and would be, many children at risk to warrant a MotoMeds extension. The plan was to launch during the period of transition when medical emergencies from acute trauma decrease and diseases related to lack of access to care and infectious diseases rise.
In September, Molly Klarman and Youseline Cajusma undertook the tough legwork of pulling the program together:
Eight local nurses were hired to manage the medications and provide in-home visits
Seven local motorcycle taxi drivers were hired to manage the pickups and deliveries
A local pediatrician was added to MotoMeds medical direction team
Medical kits for staff were donated by Direct Relief International
Training on Trek Medics' Beacon platform for all staff was carried out
Promotional fliers and radio spots to advertise the service were produced
Just a few weeks after making the decision to go ahead, the MotoMeds service was launched — and it took only 24 hours for the first call to came in.
How does MotoMeds work in Les Cayes?
The Les Cayes branch program uses much of the communications technology that was already set up for the MotoMeds call center in Gressier, effectively serving as spoke and hub hotline: When a family from Les Cayes with a sick child calls the MotoMeds hotline, they are connected to MotoMeds nurses in Gressier, who serve as the hotline dispatchers, answering calls and asking parents a series of questions about their child based on clinical guidelines for pediatric care developed through the University of Florida research program associated with MotoMeds called INACT (Improving Nighttime Access to Care and Treatment). The MotoMeds nurses evaluate the patient to triage for severity, assess the illness, and then develop a treatment plan. An on-call doctor is available to guide the nurse.
If the child's illness is determined to be severe, the MotoMeds nurse refers them to the nearest hospital for immediate emergency care. If moderate, the parents are offered medication delivery by motorcycle taxi drivers in Les Cayes along with a local nurse visit to do an in-home exam and ensure the child isn't more acute than assessed over the phone. If the child is more sick than expected, an on-call Haitian physician is contacted for further consultation. If the child's illness is mild, then the nurses send the local motorcycle taxi drivers to deliver medications and fluids alone after the consultation. Within 10 days, everyone gets a follow up call to find out how the service was received and to confirm the child improved. All of the telemedicine evaluations and treatment protocols have been developed by the Principal Investigator of MotoMeds, Eric J Nelson MD PhD, a pediatrician and infectious disease scientist.
Skin infections are a common problem managed by MotoMeds
Constant Obstacles, Consistent Services
Since its inception two years ago, the MotoMeds program in Gressier has seen a constant trail of adversity — civil unrest, protests, gang violence, hurricanes, blockades, and a presidential assassination — yet it has continued providing services to parents with sick children without disruption. And while it shouldn't be much of a surprise to us that the Les Cayes branch program has gotten off the ground so quickly, it's been particularly rewarding for all of us to see. As Dr. Nelson stated, "I have gotten the chills in a good way the past week seeing MotoMeds take shape and gain momentum the way we always had hoped for. We were so reserved for the past two years to get the design and guidelines in order and so that if it grows we'dl be ready for it. In just a few weeks, we were able to set up a whole new branch of MotoMeds. In 10 years, we could get 30 — and that would be enough to cover Haiti."
Since its launch, the Les Cayes program has been responding nightly to a growing call volume, with their peak at nine calls, many of which were to the IDP camps for children with respiratory problems, fevers, diarrhea and vomiting, skin rashes and urinary tract infections. As Molly Klarman shared, "It's happening by word-of-mouth, really. Someone has a sick kid, but aren't sure what MotoMeds is, so they call us up, expecting to have to bring their kid somewhere, but then are pleasantly surprised to learn that the service will deliver medications to them — and quite grateful for it." The first MotoMeds call in Les Cayes was for a two-year old with diarrhea and vomiting. Their parents had heard about the service by the neighbor of a neighbor of one of the MotoMeds nurses. The drivers delivered oral rehydration salts to the child and the mother was grateful as it resolved the issue and saved them from having to make a trip in the morning to the hospital, likely when the illness would have been far worse if left uncared for.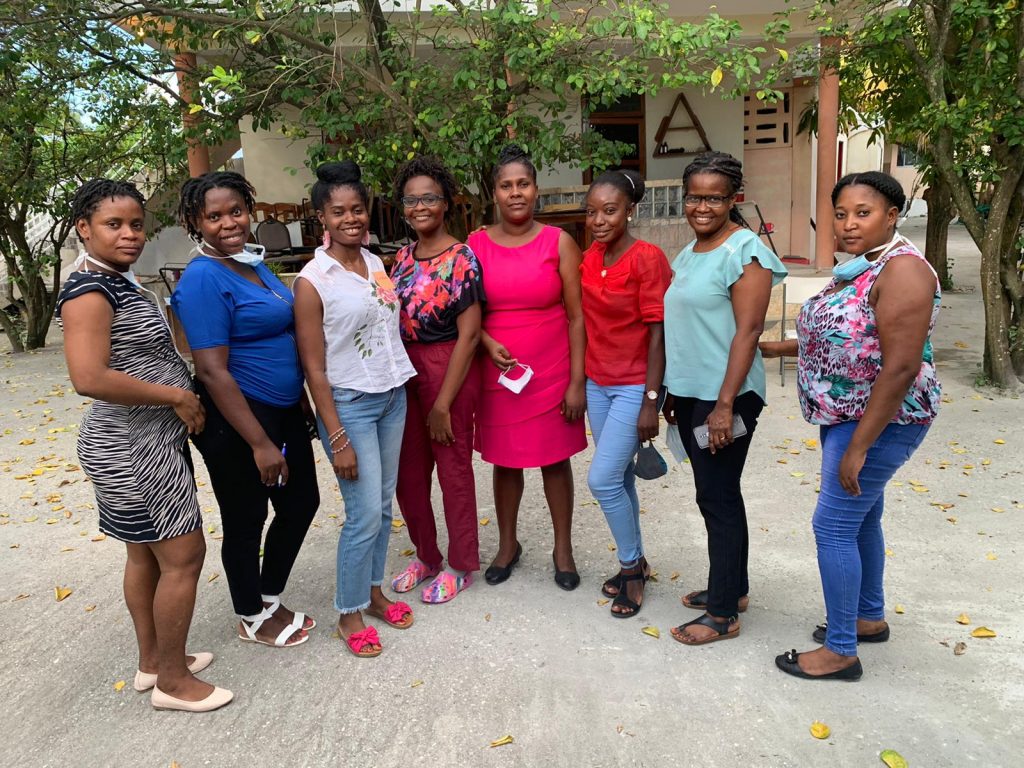 Newly recruited Nurses for MotoMeds Les Cayes
The Road Ahead
The MotoMeds Les Cayes program will continue providing nighttime pediatric services through the start of 2022. However, given that calls are already coming in to the MotoMeds call center from Haitians in IDP camps requesting healthcare services outside of the MotoMeds scope, efforts are underway to create partnerships with other governmental agencies and non-governmental organizations in the affected areas to improve access to, and coordination of, available healthcare services.
To contact the MotoMeds team, please reach out to Molly Klarman, Program Manager.
To learn more about the MotoMeds program's activities in Gressier, read their cost-effective analysis here.
To learn more about the communications technologies used to operate the MotoMeds call center, contact Trek Medics.
Support from Our Partners
Disaster Technology Grant Awardee
Impact Fund Awardee 2017 & 2019
Development Innovation Ventures (DIV)
STATE OF NONPROFIT DIGITAL ENGAGEMENT REPORT 2022
That means all people — regardless of politics, religion, or ability to pay. Improving their lives is Direct Relief's mission.