NOW RESPONDING
Cardinal Health supports EMS in Dominican Republic
What a finish to a very busy summer!
Before we'd even unpacked our suitcases upon returning from the Dominican Republic, we received news from the Cardinal Health Foundation that they'd awarded us with a $10,000 grant to keep the work moving forward.
How fast things can move when you're working in emergency medical services – and what wonderful surprises, too!
The Cardinal Health Foundation grant, supporting our efforts to improve access to emergency care and transport in the Dominican Republic, is as good a finish to the summer as we could ask for. In just the past few months, a chance email from a concerned community member in northwestern Dominican Republic led to a meeting with the Office of the Vice President in the Eisenhower Executive office building in Washington D.C., followed by an email introduction to the U.S. Ambassador to the D.R., and ultimately resulting in a very easy decision to pack our bags for a trip south in order to meet with local community leaders in Monte Cristí province. And, along the way, we also learned just how easy it is to set up our Beacon dispatching system.
Reading it all here, the summer's events are hard even for us to believe; thanks to the tremendous work of our partners at Gustafson Associates, a crack software development team, and a little bit of luck, the past few months has seen our work being taken from the southern coast of Hispaniola to the northern coast, and we couldn't be more pleased about it. Just like their neighbors to the west in Haiti, the Dominicans are in the thick of a major national effort to make 911 available where it hasn't sufficiently existed – and we're glad to be involved on both sides of the border.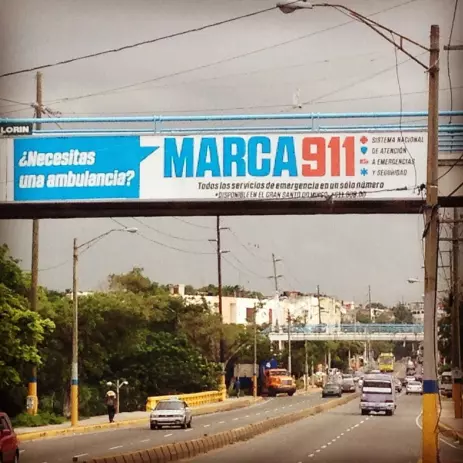 The initial success of efforts to implement a 911 system in Santo Domingo (en Español) are as clear to see as the Caribbean waters surrounding the island. At the same time, after meeting with community leaders in Monte Cristi — including the hospital medical director, civil defense and local fire chiefs — it was equally clear that there was significant concern that efforts in the capital and other major cities to improve access to emergency care wouldn't reach rural communities like theirs, where fishing boats doubled as emergency transport when needed. Knowing full well that local solutions like these were the only ones the community had to depend on, the group was intrigued to hear that simple mobile phones were all they needed to have their own 911 system; for more than an hour, we were engaged in a very candid conversation about the troubles the communities had to deal with every time there was an emergency. So it was to our great delight that, after a demonstration of Beacon, the community leaders were in unanimous agreement: they were confident Beacon could work and they were eager to move it forward.
This has all been excellent progress, and our excitement upon learning of Cardinal Health's tremendous support is a fantastic way to end the summer – and a great way to start the fall, too!
There is still a lot to learn in these early stages: during our trip, frequent stops into tiny, hot, crowded mobile phone stores to try and figure out what the mobile network coverage was really like kept us plenty busy. But adventures like these are all a part of the process when building from the ground up, and the satisfaction of seeing Beacon up and running makes it all the more worth it. Now we've got support to keep it growing and hopeful to have more get onboard!
Many, many thanks to Dianne, Cora, Meg, Shelley, and the Cardinal Health Foundation board for being tremendous advocates and a wonderful source of encouragement over the past year. We're so excited to have your continued support!
And for those who may be wondering about Haiti, we'll be flying back to Port-au-Prince next week to meet with Digicel and their program management team in order to keep pushing forward there as well – a veritable race to the top!
Until soon!
Jason, Aaron and the rest of Trek Medics